Posted by Felicia Nicks in news
on Mar 26th, 2012 | 0 comments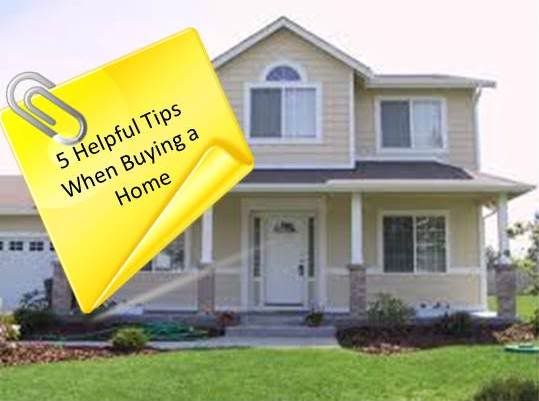 For those of you in the process of buying a House it can be both exciting & frustrating but keep the faith, because what you get in the end is a wonderful new home to make lots of memories. I'm going to outline five useful tips for home buying that you will need to keep in mind before you even start the home buying process.
First, make sure you are pre-approved because most realtors want a pre-approval letter before they will even show you a home. You will need to know how much money you can afford a month on home as well. You may get approved for a large amount of money, but you need to make sure you can afford that much money a month. So talk it over with your realtor about how much you want your monthly payment to be.
Second, know exactly what you're looking for before you drive around in circles. You can always go to the different Real Estate sites and look at the different houses in your price range; most of them have several pictures that you can look at. You need to decide if you want to buy a home that is move-in ready – meaning no work at all; or if you want to purchase a fixer-upper. The fixer-upper's may be a little less costly initially, however you need to keep in mind that you're going to have to spend more money down the road to transform the home into what you really want. Always remember to look past paint colors or wallpaper – these can be changed easily. The main things to worry about are the foundation and structural soundness of the property.
Thirdly, when you find your Dream Home, have your ducks in a row as far as paperwork when the loan process begins. This includes income taxes, bank statements, savings, and any large deposits that you have made. Be ready to explain because you will be forever scanning, emailing, and faxing everything you have to sign and KEEP everything that you fax or email. It's extremely important that you keep a folder of everything you send in to the bank or realtor because these things can get lost easily and you want to make sure you have some kind of back up if that happens.
Fourth, make sure you shop around for different prices on Home Insurance, especially on the Wind Damage part if you need it on the particular home you want to buy. Wind Damage premiums can make your Note per month be very expensive. Home buying is really exciting, but don't get caught up in getting everything done quickly and overlook something as important as the correct insurance for the area you are shopping for a home in. If you buy the cheapest insurance policy, then you could end up out of luck when a disaster strikes.
Lastly, set a Closing Date and move into your wonderful new home. Don't worry about all the stuff you have collected over the years, because eventually you will get it all un-packed and begin enjoying what you have worked so hard and saved for. It may take time to make the home feel just right, but when it does, it is extremely rewarding!
(Also, remember that an effective air filter for you HVAC system will prolong the life of your unit. If you do not care for your unit properly then it could cost you quite a bit of money when it stops working. New HVAC systems cost upwards of $6,000 depending on where you live. )