Posted by Felicia Nicks in Home Decor
on Jun 1st, 2012 | 0 comments
Face it—most of us aren't artists, on or off a campus. When it comes to decorating our homes, many times we fail. Sometimes the inspiration just doesn't come, or maybe our color palettes are a bit out of style, and in some extreme cases, our tastes exceed our sight. The last thing we want is to scare our guests, but we don't wish to bore them, either. The trick is to find a good balance between extreme and extremely lame.
There are many ways to bring positive attention to your home. One of the best ways to add flare and personality to your room is simply by color—both on your walls and in your room decor. You can say so much about yourself and your room just by using accent walls. Accent walls can be a powerful design choice in your home. They break up the traditional look of having four walls that are painted the same color. Not only do they place new emphasis on certain areas of your room, but they also give you a chance to bring attention to your tastes.
Here are some great accent wall ideas that carry a powerful punch, definitely making your room go boom-boom-pow!
1. Something Borrowed, Something Blue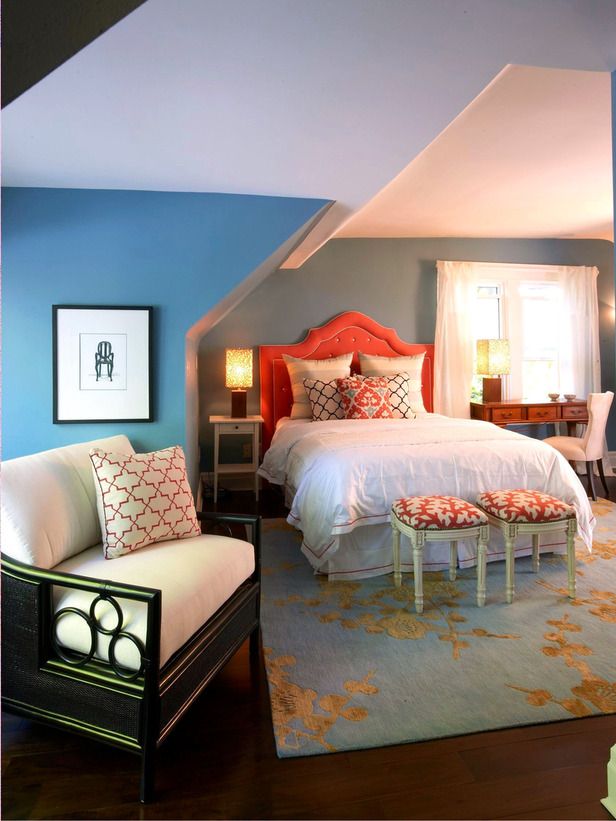 Accenting your walls with combinations of the same color—such as the three blues pictured here—can add a smart touch to an ordinary bedroom. Also, note how easy it is to contrast the room with splashes of orange and white. And the good news is that you can do this with combinations of any color!
2. That Touch of Pink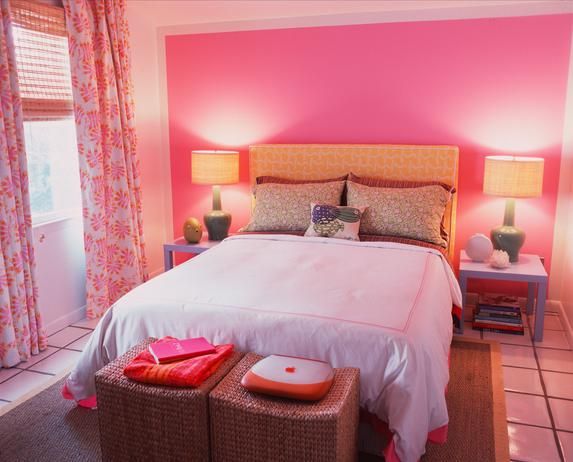 Draw dazzling attention to this pink bedroom fit for a princess. Decorated in pink and white, this bedroom really comes alive with the pink accent wall behind the bed. Not only does it bring attention to the bed, but it also gives the room a soft, cozy atmosphere perfect for peaceful slumber.
3. Wow With a Warm Red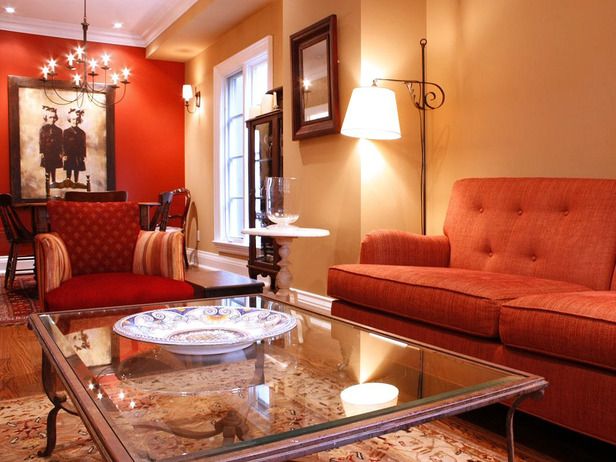 Red can be a turn off if used the wrong way, but here is an example of how red is used to wow. The bright red accent wall and décor definitely bring out the beauty of this room, but the light beige wall softens the atmosphere to create a comfortable, homey feeling.
4. Bring out the Bold
Using your fireplace as a focal point, don't be afraid to go bold. Accenting the wall with a fiery orange fireplace is the perfect way to bring a bang to a softly colored living room. It adds a definite flare that can easily be accented with trendy decorations that give the room some character and that bring out a hint of "you."
5. Artistic Twist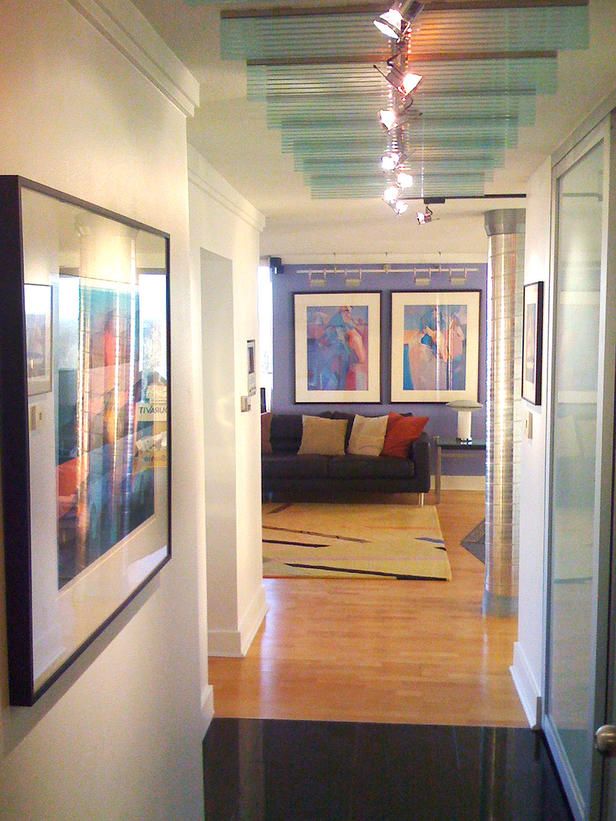 Feeling artsy? Use your own masterpieces to create a personal touch that wows the minute the door opens. Located at the end of a foyer, this purple accent wall decorated with artistic creations makes a stunning picture against white walls and is the first to greet guests entering your home.
6. Stunning Stripes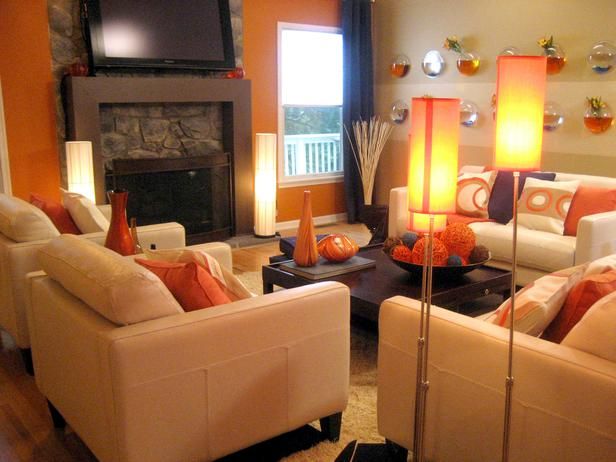 Stripes always succeed in bringing attention to the colors and furniture in your room. Here a burnt orange wall, contrasted with a softer accent wall with beige stripes, brings out the warm atmosphere of this lovely living room.
7. Break Up a Beautiful Bath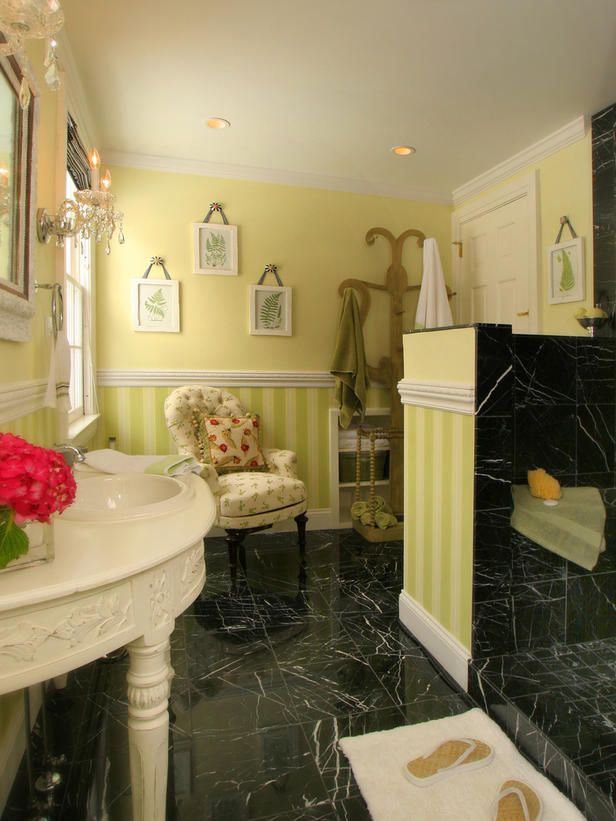 Dividing walls with molding is a great solution for adding more color and design to you room, no matter what room in the house—whether it's a bathroom, bedroom, dining room, etc. This beautiful bathroom with yellow-green walls and a lower accent wall with stripes contrasts the dark interior of the bath and creates a creative, cozy bathroom.
8. Dashing Dining Rooms
Check out these dashing dining rooms, and pay close attention to the wall designs and how each accents the other.
Bright colors are not the only way to make your room pop. This room (below) is painted in soft hues but with accent walls with pictures that really make the room pop with contemporary style and rich personality.
Photos from www.hgtv.com