Posted by Shelbie in Recipes
on Mar 21st, 2012 | 0 comments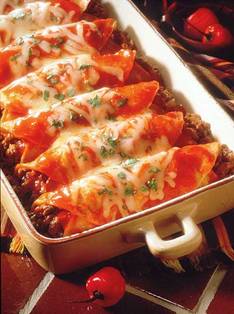 Beef Enchiladas:
Sauce:
1 can cream of mushroom soup
1 10.5 ounce can tomato soup
1 8 ounce jar Old El Paso Taco Sauce
1 10 ounce can Old El Paso Enchilada Sauce
Enchiladas:
1 pound ground beef
1 onion, chopped
12 tortillas
1/2 pound cheddar cheese grated
1/2 pound Monterrey Jack cheese grated
1 can small can Green Chiles
Sauce:
Combine sauce ingredients in saucepan. Stir in 1 cup water, blending thoroughly.
Cook over low heat until warm. Set Aside
Enchiladas:
1) Brown ground meat and onion in skillet drain and blot.
2) Stir in 1 cup of sauce, blending to spaghetti sauce consistency.
3) Warm tortillas, a few at a time between wet paper towels in microwave, until they are soft and pliable.
4) Toss together grated cheeses. Set Aside
5) Spoon approximately 3 tablespoons of meat sauce on each tortilla and top with combined cheeses.
6) Roll up and place seam-side down in a 9×13 inch casserole. Pour remaining sauce over enchiladas and top with cheese combination.
7) Bake at 350 degrees for about 25 to 30 minutes.
8 ) Optional sprinkle with green onions before serving