Posted by Ava in Green Energy
on Jul 16th, 2012 | 0 comments
Greening up with more highly efficient home design is a sure way to green down on the pocketbook. Although energy efficiency is linked to protecting the environment, it involves much more than just "going green" in the sense of preserving the environment. Energy efficiency is making the most of resources, which has a long-term effect financially as well as sustainably.
How to Make Homes Energy Efficient
When it comes to building or remodeling a home, the energy efficiency of the home should be taken into account. The higher your home's energy efficiency, the more money you can save in expenses and repairs in the long-run. There are several ways to increase your home's energy efficiency, and these are some of the suggestions by the U.S. Department of Energy…
Advanced House Framing
Even something as standard as framing can be used to your advantage for higher energy efficiency. Advanced house framing, also known as Optimum Value Engineering (OVE), involves using specific framing techniques designed to minimize waste and lumber use during construction and to maximize usage of insulation.
Using advanced house framing can save you between $500-$2000 in materials, 3-5% of labor costs, and up to 5% of yearly heating and cooling costs.
Cool Roofs
So you've heard that dark colors absorb heat and light colors reflect light, and that is true of just about everything, including roofs. Roofs, especially dark-shingled roofs, absorb heat during the heat of the day, which makes a difference in the overall temperature of your house. In fact, dark roofs can get up to 150° in the summer sun. A cool roof is one that is designed to reflect the sun, rather than absorb it. A cool roof can use a reflective type of paint, a sheet covering, or reflective tiles or shingles to help reflect the sunlight from your roof and to provide cooler temperatures, both for your roof and for your home. This can really cut down on cooling costs during the summer.
Earth-Sheltered Home Design
Having an earth-sheltered home can have energy efficiency advantages. Earth-sheltered homes use the features of the surrounding earth to shelter the home. For example, a house may be built into the side of a hill. This type of home has an advantage of conventional houses in that earth-sheltered homes keep temperatures more stable, lowering energy costs. However, they also have disadvantages and specifics for design, so careful considerations should be made before going for an earth-sheltered home.
Passive Solar Homes
Passive solar homes maximize the use of windows, walls, and floors to gather solar energy and use it to heat a home in the winter and to reject heat in the summer. As compared to active solar homes, passive solar homes do not use electrical or mechanical devices. Passive solar homes must be built to achieve the maximum use of sunlight during the winter and to reflect sunlight during the summer.
By using principles of heat flow and design elements (i.e. walls, floors, windows, etc.) of the house, houses can be constructed to allow flow of heat throughout the house without the use of mechanical and electrical operations that consume large amounts of energy. This lowers the amount of energy used in the house, as well as the amount of money spent on running those operations. Passive solar home design is definitely worth consideration.
Ultra-Efficient Home Design
With energy costs rising steadily and with the increase of dependence on foreign oil, more homeowners are looking for more energy efficient home design. If you want the most energy efficient home design, then you should try to incorporate the following elements:
Climate-specific design – You should build your home to match your climate. For example, hot, humid areas would require different construction to maximize energy efficiency as compared to a cooler, drier region.
Passive solar heating and cooling – As mentioned above, it is best to try to optimize the sun's energy for both heating and cooling in your home.
Energy-efficient construction – When building an energy-efficient home, you should consider every aspect, including construction of the home, natural ventilation, direction of the sun, water, building site, climate, etc.
Energy-efficient appliances and lighting – Much of the energy spent in your home is used by appliances like washing machines, refrigerators, computers, TVs, dishwashers, etc. Learn to lower the amounts of energy used for lighting and home appliances.
Solar water heating system – Consider installing a solar water heating system, which uses much less energy and can be cheaper in the long-run.
Small solar electric systems – Installing a small solar electric system is a great way to lower energy, but you should consider several issues, including the available solar supply, the cost of installing one, the size of the system, and local authority on installation.
Energy-Efficient Home Showcase
According to the U.S. Green Building Council, over 20,000 homes in America are LEED certified. LEED, Leadership in Energy and Environmental Design, provides a measurement of green building elements that promote sustainability. Here is a showcase of just a few energy-efficient homes across America.
Daring Desert Design
Albuquerque, New Mexico
This video explores the home of an Albuquerque, New Mexico, couple who wanted a unique home with energy-efficient elements and bold complements for their desert location.
Apartments the "Green" Way
Fayetteville, Arkansas
Talking about going green! This entire apartment complex, located in Fayetteville, Arkansas, was renovated to support energy-efficient design.
Modernized from its 1960s style, the Eco Modern Flats apartment complex was LEED certified in 2011 to become Arkansas's first LEED certified multifamily community. Some of the green features of the apartment complex include:
Energy-efficient appliances
More efficient lighting
Solar hot water heating
Reflective roof coatings
Energy-saving HVAC system
Historic, Charming, and Green
Galveston, Texas
This historical home in Galveston, Texas, is proof that a home can be both charming and modernly energy-efficient without losing its historical appeal. This house was relocated and renovated after losing its foundation during Hurricane Ike. In an effort to become more energy-efficient, the house installed new insulation, four solar panels, and two rainwater cisterns, becoming one of the nation's first historical buildings to achieve LEED certification.
Green Home on the Range
Wimberley, Texas
You don't have to live in the city to have an energy-efficient home. Located outside of Austin, Texas, this energy-efficient home features ten-foot ceilings, carefully placed windows and sliders for natural lighting, a metal roof, and a high-efficiency Energy Star heating and cooling system.
California Dream Green Home
Santa Monica, California
With mild climate and California breezes blowing, Santa Monica is the perfect location for this energy-efficient home.
This home, specifically built with recycled materials and for energy-efficient use, is LEED certified and has been featured on HGTV's "Hollywood at Home." Some of the energy-efficient features of the house include the following:
Recycled materials
8 passive solar hot water panels
64 photovoltaic panels
Passive cooling system
5,000 gallon rainwater collection tank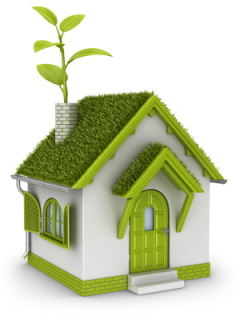 Energy-efficient home design does not have to be as spectacular as some of these extravagant showcased homes. There are simple and relatively inexpensive changes, upgrades, and choices to be made when building or remodeling a home. Do some research, see what fits you, and ask your contractor what moves you can take to make your home more energy-efficient.